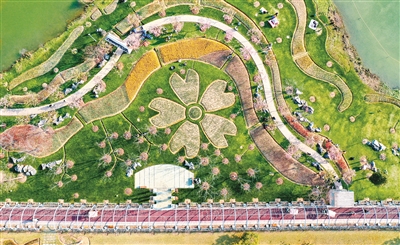 The Ningbo Botanical Garden. /寧波植物園。[Photo by Tang Yan]唐嚴攝

  By Xu Zhuowei
  The Ningbo Botanical Garden, located in the Zhenhai New City, is divided into three areas: sports and leisure area, popular science and sightseeing area, and flower gardening area. It is built to promote ecology, science popularization, tourism, and leisure.
  寧波植物園地處鎮海新城,分為體育休閑植物區、科普觀光植物區和花卉園藝植物區三大片區,兼具生態、科普、旅游、休閑功能。
  The garden has introduced more than 630 original plant species and more than 2,000 horticultural varieties. More than 25,000 trees have been planted, making it the "Kingdom of Plants". The botanical garden presents different scenery in four seasons alternately. People can enjoy roses in spring, lotus in summer, the sight of golden osmanthus in autumn, and plum blossom in winter.
  全園共引進植物原種630余種,園藝品種2000余種,已栽植喬木25000余株,"植物王國"雛形初具。植物園打造了"春賞薔薇夏品蓮,秋看金桂冬探梅"的四季植物景觀體驗區,四季交替呈現出不同的景色。
  The "Plant Evolution Road", "Overwater Forest", Chinese Rose Garden, and Orchid Garden are several highlights of the botanical garden. In addition to the beautiful plant landscape, the garden also held numerous events, such as flower arrangement art exchange exhibition, green light music festival, summer light and shadow art festival, nature science class, and gardening salon that attract citizens and tourists to visit.
  "植物進化之路""水上森林"、月季園、蘭園等是植物園的幾大觀賞亮點。除了美麗的植物景觀,園區還舉行插花藝術交流展、綠光音樂節、夏季光影藝術節、自然科普課堂、園藝沙龍等活動,吸引了無數市民和游客。