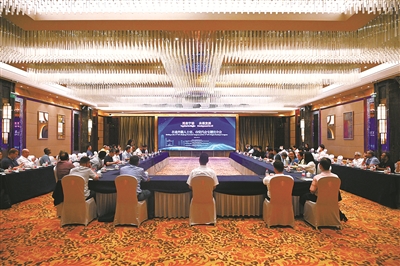 More than 50 expats from 21 countries participate in the event. [Photo by Gao Bowen]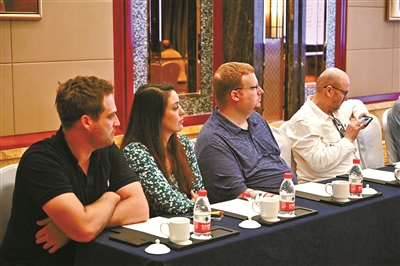 By Xu Zhuowei
  On August 5th, an educational event for foreigners on the outcomes of the 15th CPC Zhejiang Provincial Congress and the 14th CPC Ningbo Municipal Congress was organized by the Ningbo Foreign Affairs Office and Ningbo Information Office at Ningbo's Hangzhou Bay New Zone.
  More than 50 expats from 21 countries including Singapore, Indonesia, South Africa, Egypt, the United Kingdom, Germany, Russia, the United States, and Brazil participated.
  Ningbo's Ambitions
  As the keynote speaker, Chen Guomiao, Deputy Director-General of the Ningbo Foreign Affairs Office, gave a presentation on Ningbo's economic achievements over the past five years: Ningbo's GDP grew from $133 billion in 2017 to $216.3 billion in 2021, from China's 16th-largest to the 12th-largest. According to the Yangtze River Economic Belt and the Yangtze River Delta Integration Plan, two national-level development strategies, Ningbo and Hangzhou would become the twin engines of Zhejiang's growth. The figures impressed the audience greatly.
  In the next five years, Ningbo will start a new phase of transforming into a modern coastal metropolis. The city has set six specific goals: becoming 1) a capital of global smart manufacturing innovation, 2) a capital of international openness and connectivity, 3) a capital of coastal urban charm, 4) a capital of civility, 5) a capital of urban-rural common prosperity, and 6) a capital of smart governance.
  To achieve these goals, Ningbo has set itself many ambitious tasks. Johann Schonken from South Africa said, "I am very interested in the progress of major infrastructure projects to reduce commuting time for citizens, such as the Ningbo-Zhoushan Railway, the Hangzhou-Ningbo High-Speed Expressway, and Shanghai-Ningbo Cross-Sea Passage. The travel time between Ningbo and Shanghai will probably be cut down to less than an hour."
  Impression of Ningbo
  Currently, there are about 5,100 foreigners working and doing business in Ningbo. Another 4,000 to 5,000 long-term residents are expected to return the city from abroad in the coming months. Among the participants of Friday's event, some are long-timers who have witnessed Ningbo's growth over the past decade, while others are new arrivals who have high hopes for Ningbo's future.
  Indian expat and restaurant owner Rajesh Shukla has lived in China for 18 years, of which 13 were in Ningbo. "I have been to many cities in China, such as Shanghai, Nanjing, and Hong Kong. Ningbo, a city that is small yet beautiful, has left me with the best impression, which is why I decided to stay." In Ningbo, Shukla quickly found a group of like-minded friends. Shukla believes that Ningbo's future is bright, and that the city's growth will have a positive impact on his personal prospects. He plans to open several more branches of his Indian restaurant and expand his business.
  Justin Rainey arrived in Ningbo a month ago from the United States. His first impression of Ningbo is a city that is open and friendly. "I hope to make more Chinese friends in Ningbo, and also meet different people from all over the world here," said Rainey, who will be teaching at a local school for the next two years.
  "There are many factories in Cixi, which is good for my business. That's why I moved to Ningbo," said Punit Satpute, a businessman from India. He has been living in Ningbo for 6 years. Before moving over, his business was based in Guangzhou. "I'm very happy to be working here and I will stay in Ningbo for a long time," he added.
  Strengthening International Partnerships
  "This is the first time that we've organized an event for expats to understand the outcomes of the provincial- and municipal-level Party congresses," said Chen Guomiao. "Hopefully, through this creative approach, we could give foreigners living in Ningbo an idea of how much the city has grown in the past five years and what the city's future would look like. Understanding can pave the way for more international cooperation."
  As a port city, Ningbo has always embraced opportunities to connect with the rest of the world. Going forward, Ningbo will enhance its opening-up policies. The city will continue to hold the China-Central and Eastern European Countries Expo and increase the global influence of the China-CEEC Business Cooperation Demonstration Zone, becoming a top destination for overseas imports, international investment, and cultural exchange. In addition, Ningbo will align its trade practices with global norms, develop the oil and gas industries, develop a "digital free trade zone", boost the international trade and investment sector, foster more Ningbo-based multinationals, and become an emerging international center of commerce.
  "We sincerely hope that foreigners could think of Ningbo as their new home, contribute to the city's development, and help us form more international partnerships. We will continue to be open, inclusive and supportive, implement business- and investment-friendly policies, and create a better environment for expats to work and settle down in," said Chen.