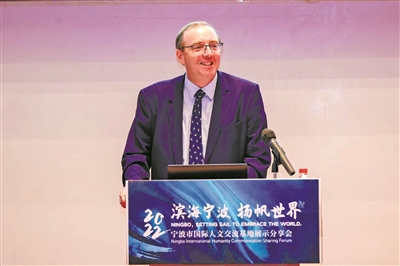 Gary Rawnsley, dean of the Faculty of Humanities and Social Sciences, UNNC. [Photo provided by UNNC]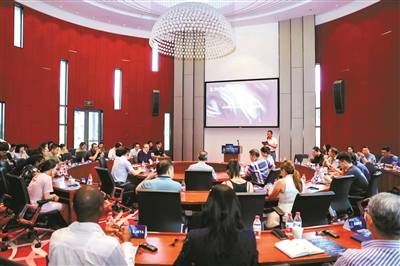 The 2022 International Humanity Communication Sharing Forum. [Photo provided by UNNC]

  By Dong Na
  Recently, a variety of cultural exchange activities were held in Ningbo, which are committed to better carrying forward the traditional culture and city image of Ningbo to the world and helping international friends have a more comprehensive understanding of the city's elegance and vitality.
  International Cultural
  Exchange Bases Awarded
  The 2022 International Humanity Communication Sharing Forum was held at the University of Nottingham Ningbo China (UNNC) on July 22, during which the first batch of 25 international cultural exchange bases were awarded.
  The 25 bases will become platforms for expats to learn about the city and promote Chinese culture around the world, ranging from schools and colleges, scenic spots, libraries and museums to companies, residential communities, villages and social organizations. Among them, two institutes - UNNC and Zhejiang Wanli University - were also awarded the Zhejiang Provincial International Cultural Exchange Bases. Thirteen representatives from these bases shared their experiences on international cultural exchange during the forum.
  "I am delighted that China takes seriously its commitment to cultural exchange," said Gary Rawnsley, dean of the Faculty of Humanities and Social Sciences, UNNC, "This forum indicates the level of work in growing this area of international activity."
  In his view, the creation of International Cultural Exchange Bases is a significant step forwards in realizing China's ambition to showcase this country to the world and help generate soft power.
  "I believe that through our cooperation we can all progress with mutual respect, understanding, and empathy. We all share a responsibility for this work, and we can all make a difference in the lives of the people our cultures touch," he added.
  Campaign to Share
  Vivid Stories with the World
  The launching ceremony of the international communication campaign for Picturesque & Vigorous Zhejiang was held in Ningbo on July 21, attracting nearly 200 officials, media representatives, expats, and social media influencers.
  Zhejiang, with its picturesque landscape, vibrant economy and diligent people, has embarked on a new journey towards a better life for all. It is an important showcase for the whole world to better understand the wisdom of China's governance.
  International Communication Campaign for Picturesque & Vigorous Zhejiang covers a series of activities, including "On the Way to Common Prosperity" News Collection Tour in Ningbo, the 2022 "I'm in Zhejiang: The Impressions of Zhejiang in Foreigners' Eyes", prelude to "Picturesque & Vigorous Zhejiang" Global Short Video Contest, and the launching of the Third "@Beautiful Zhejiang" Global Short Video Contest, Awarding Ceremony of the "Important Window" International Communication Alliance, the launching of the Media-Convergence-Based International Communication Platform for "Picturesque & Vigorous Zhejiang".
  Media representatives, online influencers and vloggers have been invited to participate in the "On the Way to Common Prosperity" tour in Ningbo. They joined different teams to separately visit Tiantong Old Street, Wandi Village, and Hefeng Community to explore the cultural heritage of "Eighteen Streets in Dongxiang" and the new achievements of rural development, experience the characteristic scenes of the future community, and then share the vivid stories of Ningbo with the world.
  Perspectives of Cultural
  Exchange from an Expert
  "The power of cultural exchange is formidable. Culture defines civilization and drives history, progresses scientific innovation and development, and can encourage tourism, investment, business, and education links," said professor Gary Rawnsley from UNNC when addressing the 2022 International Humanity Communication Sharing Forum last Friday.
  He noted that culture can bring us closer together, to help us understand that what we share is far greater than what separates us.
  What makes him proud is that UNNC and especially the Faculty of Humanities and Social Sciences led by him have developed a strong relationship with the city, including Ningbo Museum, Ningbo Bang Museum, and Ningbo Library. They have collaborated on many projects, including a lifelong learning programme for the community outside the university.
  Based on his years of working and living experience in Ningbo, Rawnsley shared some important steps to consider when designing and executing a programme or strategy for cultural exchange, such as defining the objectives and ambitions of the cultural exchange programmes.