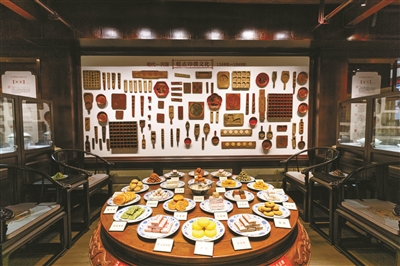 Museum of Ningbo Cuisine. /寧波菜博物館。 [Photo by Sha Yishan] 沙燚杉攝
  By Jin Lu
  Zhejiang cuisine, which includes Ningbo's well-regarded cuisine, is known as one of the eight major cuisines of China.
  寧波菜歷史悠久,是中國八大菜系"浙菜"的重要組成部分。
  The Museum of Ningbo Cuisine was unveiled on Nantang Ancient Street last year.
  寧波菜博物館位于寧波"八大歷史街區"之一的南塘老街。
  Since its opening, the Museum has introduced to people the start, development, and prosperity of Ningbo cuisine through the display of artifacts, texts, pictures, models, videos, etc., showing the specific development context and special characteristics.
  自開館以來,博物館通過器物、文字、圖片、模型、視頻等,重現了寧波美食在寧波大地萌芽、發展、昌明之進程,體現其發展脈絡及風格特征。
  With a total area of more than 1,000 square meters and featuring nearly 1,000 exhibits, the museum showcases cooking tools and techniques that have been passed down through generations, as well as poems and literature recording the development of Ningbo cuisine.
  展館總面積超1000平方米,擁有各種藏品近千件,展示了世代相傳的烹飪工具和技藝,以及記錄寧波菜發展的詩詞文獻。
  The museum is open to the public for free and hosts a variety of activities to promote Ningbo cuisine.
  為了更好傳承寧波菜,除了長期免費展示藏品外,博物館還會持續向全社會征集飲食文化的舊物件,同時組織各類交流活動,邀請專家前來參觀、品鑒、探討交流。