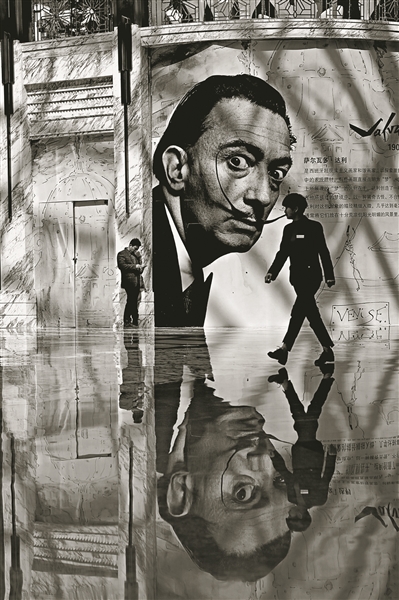 Surreal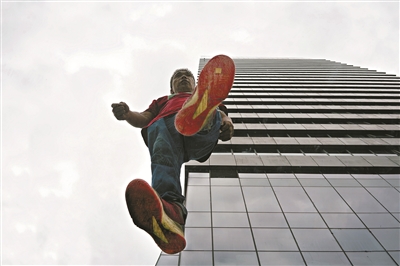 Walking on the air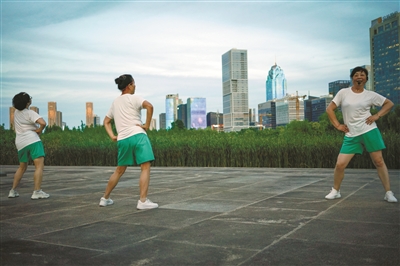 Forever young[Photo by Sudheer Uralath]
  By Xu Zhuowei
  Intern: Ye Wenzheng; Li Yizhi
  Opened on July 16, a street photo exhibition by Sudheer Uralath, an Indian photographer, themed Subjective Objects, and organized by the Ningbo Art and Culture Center, has been welcoming visitors at the Qunxing Exhibition Hall.
  This is Sudheer's third solo exhibition in China. This time, he brings fifty candid street photographs shot in China and new understandings of photography to share with his audience.
  The New Exhibition
  'Subjective Objects'
  Sudheer has lived in Ningbo for seven years and recorded Ningbo for seven years with his lens. He had his first solo street photography exhibition at the Yinzhou Wanda Plaza in 2019. This new exhibition has taken on more new meanings for him.
  "The 'object' in this exhibition is not just a specific person or thing in life but momentary human emotions," said Sudheer. He captures these types of emotion and then uses the camera to present his understanding of humanity. Compared to his former shows, this government-supported exhibition features fifty of his photographs, forty of which have never been shown to the public.
  Sudheer prefers to photograph ordinary people and record their lives. "Because they are more open to showing their genuine emotions from their inner souls in front of the camera," Sudheer added. Under his lens, a middle-aged man is perming their hair, an old man is ruminating under the sunset, and women are dancing in the square.
  With a small Sony camera, he believes that street photography is the method to make him get close to these people more quickly. And more than being able to wait for someone to show up, he doesn't find the waiting process boring. Because it is the art of uncertainty to expect some surprises, although it may take a lot of time.
  Stories with Ningbo City:
  My Second Hometown
  Having lived in Ningbo for so many years, Sudheer describes it as his second hometown.
  When in India, Sudheer said, he was first attracted by Ningbo because of the description in Ying-Yai Sheng-lan, a book by a voyager in the Ming era that contains an overall survey of ocean shores.
  Before coming to Ningbo, Sudheer had also traveled to many different countries, such as Thailand, Indonesia and so on. When talking about his impressions of Ningbo, he pointed out that Ningbo is safe and comfortable. Ningbo's urban road planning is very humane, and the security environment is excellent. He never worries that he will be lost in Ningbo. "Ningbo people, who grew up in the coastal culture, are also very open and friendly. When they face the camera, they are more comfortable and confident," said Suhdeer.
  Sudheer now lives in the Yinzhou District and teaches yoga to support his life. He devotes most of his energy to experiencing and documenting the custom of Ningbo. "Ningbo is a diverse city where classic and modernity coexists, bringing me inspiration everywhere," said Sudheer. "The style of the Haishu District is classical Chinese, while there are more modern architectures in the east of Ningbo, which both provide me with rich objects for photography." He also likes to visit the alleys of Ningbo because the life there is more vivid. Although Ningbo's public transportation lines are well established and convenient, Sudheer prefers to ride his bike along the small roads to discover special sights. Besides his photos, he also records videos of some engaging experiences during the exploration, like people using a waterwheel as the power to make Niangao, rice cake, and Baozi, steamed bread with ingredients.
  Having been in Ningbo for many years, Sudheer said he still feels fresh about Ningbo. He has always been able to reinterpret it from a different perspective and create new photographs. Therefore, his photos always present the city and people of Ningbo with new ideas.
  Photography Philosophy
  Sudheer believes that the philosophy of photography is a selection and balancing of the contrasts and contradictions in life. Despite modern digital techniques, such as PS, are frequently used by the industry, Sudheer prefers to shoot the most realistic objects.
  As a yogi, Sudheer believes that yoga exercises his body's balance and helps him operate the camera more steadily, rather than with the help of a stabilizer. Sudheer majored in literature and filmmaking and worked for many years in film and television production. These experiences of visual sensibility have influenced the creation of his current photographic art, which makes the protagonists in his photos often have a sense of storytelling, as in the movies.
  Speaking of the future, Sudheer says he will travel to other cities in China, but he will eventually return to Ningbo because it is his second home. And after each trip, these new experiences will help him reacquaint himself with Ningbo and create more photographic art about the city.